Product Introduction: KWO410-2
This newly developed product supports TCP/IP transmission of video, usb,audio,mic,rs232 signals of computer max up to 120 meters through single cat5e cable. User can receive the video and audio signal remotely at real-time, it also provides a DVI interface on sender part for local use.
And the product supports HD video (HDMI/DVI/VGA) transmission max up to 1920*1080@60Hz, and max extension distance per single pair is 120meters over TCP/IP, and it can reach 200meters after connecting switch, and it supports multiple cascade operation.
The product can be widely used in military command and control system, police command an control system, traffic management system, power and electricity supply industry, government projects, medical system, commercial presentation system, multimedia system etc.
Front drawing:

Product Feature:
1. Provide a DVI interface on sender part for local operation.
2. Use single UTP cable for transmission, cost saving.
3. Support USB1.1, compatible with USB2.0 protocol.
4. Energy saving, environment friendly, heat and radiation reduction.
5. Support DOS,Windows,NT,Linux etc.
6. Pure hardware design, no software needed, easy to install.
7. Real-time remote control and display, and with high anti-interference ability.
8. Can transmit video, audio, USB and MIC signals of computer at the same time.
Product Specification:
Power supply

Voltage

5V DC

Sender power

5W

Receiver power

5W

Video transmission function and interfaces

HDMI

HDMI1.1 1.2 1.3

HDCP

HDCP1.2

HDMI resolution

1080p/1080i/720p/720i/576p/576i/480p/480i

Video color format

24bit/deep color, 30bit/deep color, 36bit

Audio format

DTS/HD/Dolby-tureHD/LPCM7.1/DTS/Dolby-AC3/DSD

Max transmission rate

1Gbps

I/O TMDS signal

0.5-1.5Vp-p(TTL)

I/O DDC signal

5Vp-p(TTL)

Input cable length

≤20m AWG26 HDMI 1.3 standard cable

Output cable length

≤20m AWG26 HDMI 1.3 standard cable

USB connector

Protocol

Support USB1.1, compatible with 2.0 protocol USB device

Audio

3.5mm stereo audio

Physical parameters

Size

Sender : 164mm*115mm*26mm
Receiver: 164mm*123mm*26mm

Housing

Metal

Color

Black

N.W.

0.75Kg

Environment

Operation temperature

-15℃-55℃

Storage temperature

-40-80℃

Humidity

0-95% (Non-condensing)
Connection and Schematic Diagram 1: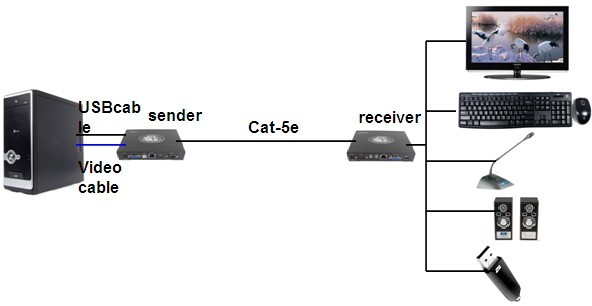 Connection and Schematic Diagram 2:

Connection and Schematic Diagram 3: